"Study in China" – the 8th International Pharmacy Students Academic Forum, co-sponsored by China Association for International Education (CAFSA) and China Pharmaceutical University (CPU) was held at the Conference Hall 111, Economics & Arts Building, Jiangning Campus on 11th December. Held during the pandemic, the forum was attended both in person and online by more than 200 international students and experts from universities worldwide, including CPU, University of Manchester, University of South Alabama, North South University, Shanghai Jiao Tong University, Xi'an Jiao Tong University, Nanjing Medical University, Zhejiang University, Shenyang Pharmaceutical University and Nanjing University of Chinese Medicine. The opening ceremony was attended by Prof. KONG Lingyi, Vice President of China Pharmaceutical University, Prof. CHENG Aimin, Vice President of China Association for International Education, Mr. QIAN Jierong, Deputy Director of Higher Education and Teacher Training Department, Nanjing Education Bureau, Mr. YU Xiaonan, Vice President of Jiangsu Association for International Education. The ceremony was moderated by Prof. XU Ming, Dean of School of International Education, China Pharmaceutical University.
Vice President KONG presented his welcome speech on the opening ceremony. He expressed his sincere welcome and gratitude to CAFSA for its support and guidance as well as the active participation of all partner universities and students. Prof. Kong announced that, the International Pharmacy Students Academic Forum (IPSAF) will be co-hosted by CAFSA and CPU from 2021, and the forum will beofficially included in the "Study in China" series of academic activities of CAFSA. He hopes to shape the forum into a brand academic activity for international pharmaceutical students to display their achievements and explore the frontiers of science.
Later, Prof. CHENG Aimin, Vice President of CAFSA, delivered a speech. On behalf of CAFSA, he extended warm congratulations to the holding of the forum, and briefly introduced CAFSA and the "Study in China" series events. He said that with high recognition for the achievements and influence of the IPSAF, the association will increase the support and guidance to the forum and work together with CPU to further develop and strengthen the forum.
At the forum, Dr. Balmukunda Regmi, an international alumnus of CPU and professor at Tribhuvan of University, Nepal, addressed an online keynote speech entitled "Expanded roles of pharmacists admist COVID-19 pandemic – a short review". Thereafter, a total of 11 international students from 14 colleges and universities were selected for academic presentation and 31 international students for academic posters. Through online introduction and in-person discussion, the students shared their innovative ideas in pharmaceutical scientific research and discussed the latest research progress. After fierce competition, Srijan Acharya, a PhD student from University of South Alabama won the first prize for academic reports, and Md Fahim Shahriar from China Pharmaceutical University won the first prize for posters.
The opening ceremony also held the awarding ceremony for the awardees of "Most Popular Teachers among International Students", "Nanjing Municipal Government Scholarship" and "CPU Presidential Scholarship for International Students".
This forum has been successfully held for eight consecutive years, aiming to provide a platform for Chinese and foreign pharmacy students to display achievements and exchange ideas. The inclusion of the "Study in China" series of activities of CAFSA marks a new beginning of the forum, which will further enhance the level and quality of the activity and widener its influence at home and abroad.
Photos by HONG Zhichao and GUO Yi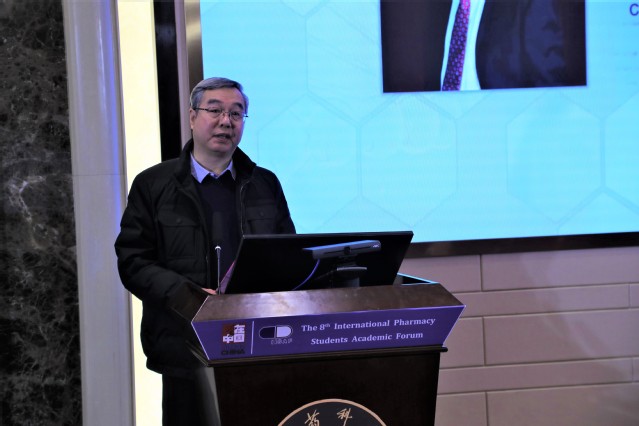 Prof. KONG delivered welcome speech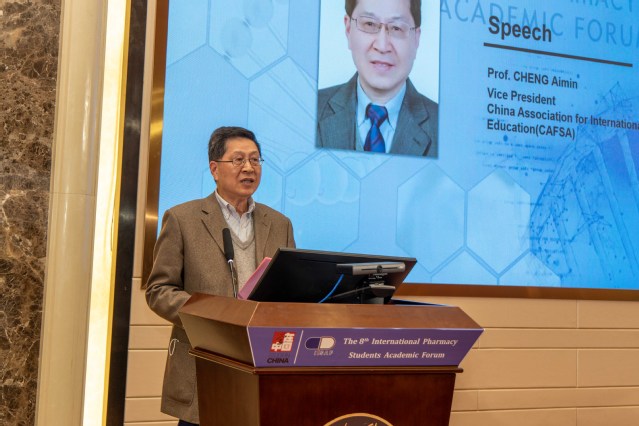 Prof. CHENG delivered speech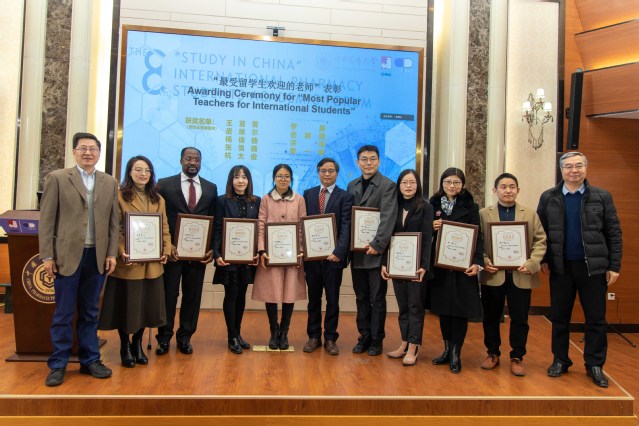 Vice president KONG and Vice president CHENG conferring awards to the Most Popular Teachers among International Students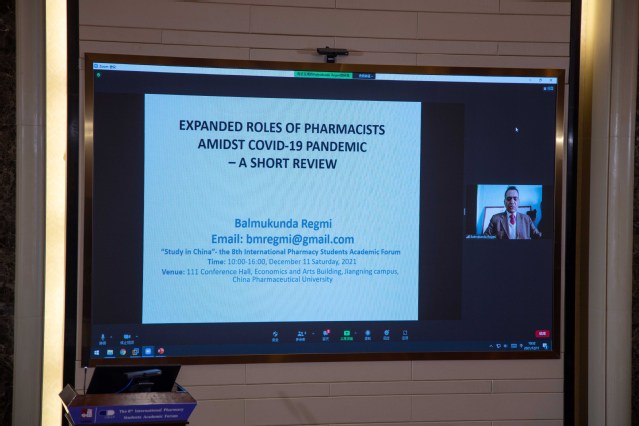 Keynote Speech by Dr Balmukunda Regmi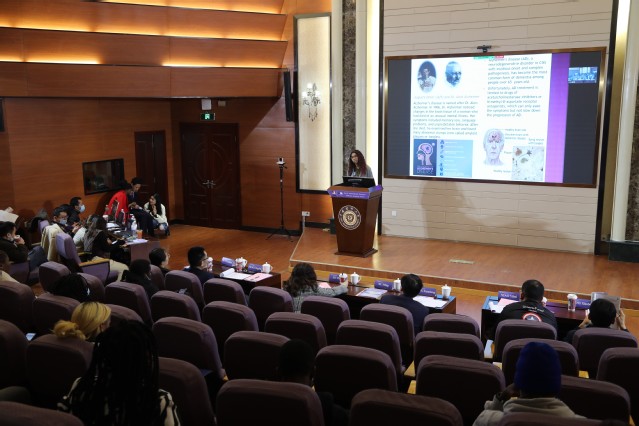 Academic Presentation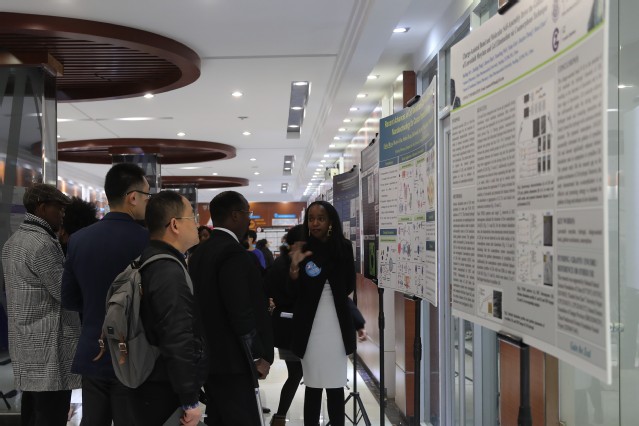 Poster Exchange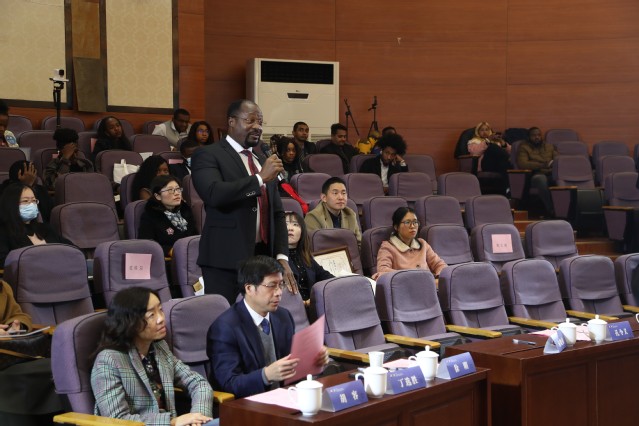 Q&A session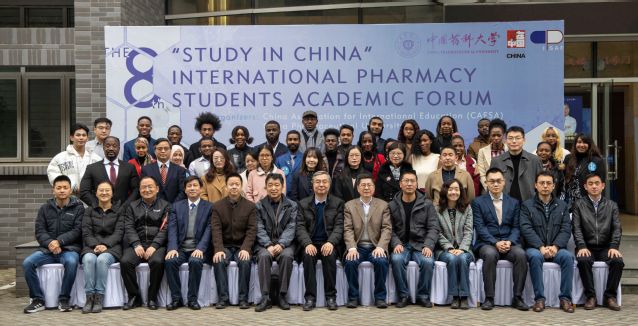 Photo of attendees